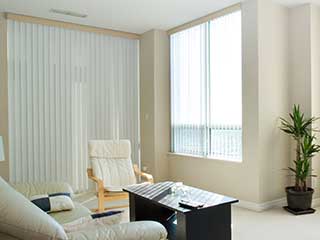 La Mesa homes and businesses have a lot of choices when it comes to our inexpensive, custom-designed window treatments. If you've come to this page, you're probably curious about our vertical blinds. La Mesa Blinds & Shades provides inexpensive, sliding vertical blinds for windows and doors of all kinds, at rock bottom prices! We can custom make these blinds in a variety of ways and from all sorts of materials. Vinyl, wood (or faux) and metal vertical blinds can add to the style of the room and significantly enhance the light protection on glass doors, window walls, and more.
So What Are Vertical Blinds?
Mot window blinds are made up of rigid panels that point right and left across the pane. Since most windows are taller than they are wide, this lets the blinds support themselves as well as possible with less material. Vertical blinds are the exact opposite! These blinds' panels point up and down and are fitted to a frame or set of rollers that you move sideways to open or close. Like most other blinds, you can also rotate the vertical panels in place to let in filtered sunlight over a wider area.
How Vertical Blinds Can Enhance Your La Mesa Property
The simplest way to put it is that any opening that's wider than it is tall is ideal for vertical blinds. The same factors that make horizontal blinds good for tall windows also make vertical blinds more efficient for wide ones. Vertical blinds for office windows, galleries, and kitchens are most popular, as these rooms are most likely to have wall-length window panes. Another good place for vertical blinds is on sliding glass doors. Patio and balcony doors are usually wide, side-sliding affairs. So we stick another row of tracks on there and vertical shades fit right in.
Blinds Materials And Embellishments
Vertical blinds' basic structure leaves a lot of room for creativity. When ordering your set of custom blinds, our team will help you pick out details like color, frame, and materials. La Mesa home and business owners have aluminum, vinyl, and wood materials to pick from when designing their sets. Let our consultants explain the pros and cons of each, and they'll give you a free quote. You also have the option of combining your blinds with other window treatments. Vertical blinds and curtains, for instance, make a great combination. You can get the same sort of fine control over light and privacy levels by putting them over some solar shades.
Try Our Advanced Motorized Vertical Blinds
We aren't in the dark ages anymore, and no, that isn't just the setup for a pun about shades. We can provide most types of window treatments in hand-drawn or motorized form, and vertical blinds are no exception. Vertical blinds can be heavier and somewhat easier to jam than horizontal blinds. With an electric motor doing the work, the difficulty and potential for user error shrink down to almost nothing. Along with your motorized shades, La Mesa Blinds & Shades offers your choice of remote controls, timers, and heat or sunlight sensors.
Custom Vertical Blinds With Free Quotes!
Our team of experts here at La Mesa Blinds & Shades services all addresses in the local area. Whether you're at city limits or a little farther away, we can send someone over for a free consultation on vertical blinds or any other window treatment option you want. We pride ourselves on our flexible scheduling and short production times. If you have any windows or glass doors that need covering, give us a call and book a free estimate. Our blackout vertical blinds can fit bedrooms and office windows perfectly, and we've got a huge range of selections you can customize to fit your budget and needs.