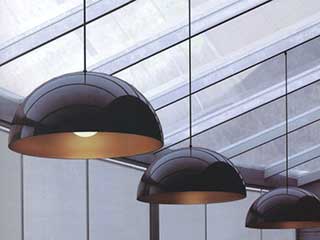 When selecting window coverings for your home or office, it's important to consider the advantages each can bring. Solar shades come with a number of benefits that could be useful to you in a number of ways. Here are the top five reasons why our team feel these can be an excellent window treatment option for many.
Prevents UV Damage

UV rays are not only damaging to us people, our furniture and décor can negatively be affected by them too. Solar shades are made from special materials that block the harmful rays of the sun, protecting you and your furniture. Installing these in your home can greatly increase the life of your valuable belongings.

Keep Your View

A lot of window treatment options require you to completely cover the window in order to block out light. While as effective as that is, you can lose out on a great view of the outside world as a result. Due to the unique fabric that solar shades are made of you can close them all the way to block the harmful effects of the sun and glare, but also enjoy the view of the beautiful outside world!

Save You Money

Summertime can be hard on our air conditioning and as a result, our energy bills as well. Solar shades are among some of the greatest options for a homeowner to address this problem. They effectively block the heat and help maintain the indoor temperature very well, conserving energy which also saves you money.

Wide Variety Of Designs

Solar Shades can really make an area aesthetically pleasing and will look very appealing to many people. Available in different sizes, shapes, designs, dark colors and light colors, you can definitely find exactly what you're looking for when it comes to matching with the rest of your home.

Motorized Options Available

One of the greatest inventions to window coverings is the fact that a lot of them can now be motorized. Solar shades are no exception and can easily be controlled anywhere in the room with the click of a button. They also can still be useful when you aren't around and be set on a timer, so no matter the time of day you will get the protection you want, wherever you are!