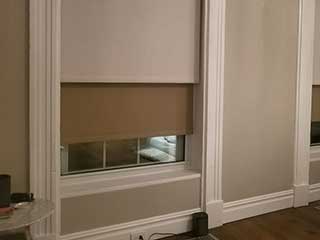 A bright, sunny room can be very welcoming and comfortable to stay in. However, too much sun often causes problems. Have you ever had to sit in an uncomfortably bright sitting room, trying to shield your eyes from the sun? This is a sure-fire way to get a headache, and this isn't the only problem. The wrong window coverings can also make it easier for people outside to see into your home, particularly in the evening. You can't relax knowing that your neighbors might well be able to see in. Luckily, we offer a cheap, easy-to-use solution. Custom blackout blinds cut out all unwanted light. This means total privacy and ultimate protection from sunlight. La Mesa Blinds & Shades's impressive custom-built coverings give you control over the entire process from start to finish.
Amazing Deals For Blackout Blinds and Shades
We offer the best blackout blind prices around. Whether you need blackout blinds for french doors or for any other part of your property, you can be certain you're getting the best rates the market has to offer. In combination with our low prices, we also take pride in giving you great quality products. Our expert team works with you to find out exactly what you need, and will carefully create custom blackout blinds that match your requirements down to the tiniest detail. Choose whatever color, material and design you want, and settle on an operation method that suits you. That's what makes us the go-to blackout blinds provider in the La Mesa area.
Blackout Office Blinds
Any workplace can benefit from improved window coverings. There are plenty of reasons why you might need better blinds. For example, employees who have to deal with glaring sunlight all day long are likely to get eye-strain induced headaches. This means lower productivity. There are also plenty of La Mesa businesses that need to offer privacy to their clients, such as dental surgeries and medical practices. Blackout blinds for office windows let you avoid these problems, and thanks to our great rates, it's also an easy upgrade to budget for. Find out more with an in-person consultation at your address.
Blackout Blinds For Any La Mesa Home
Privacy and comfort are as important at home as they are at work, and perhaps even more so. Our blackout blinds for bedroom windows mean you'll never have to worry about light getting through your windows. This is a common concern since other window coverings can let people see into a lit room at night. Our range doesn't just cover wall-mounted windows, though. We can provide you with blackout blinds for skylights too. With them, you're able to easily gain total protection for every room in your house. Choosing room darkening window treatments gives you total control over privacy and the interior ambiance. It's great for watching movies, as you won't have to deal with glare from the outside.
Consult With La Mesa's Best Blackout Blinds Source
Our made-to-measure blackout blinds always start with a free consultation at your La Mesa address. To learn about our impressive shading products for windows, skylights, and glass doors, including motorized blackout blinds, contact our team here at La Mesa Blinds & Shades and book a consultation appointment today. We're always happy to help with anything you need and show you our huge range of blinds, blackout, motorized, and other.