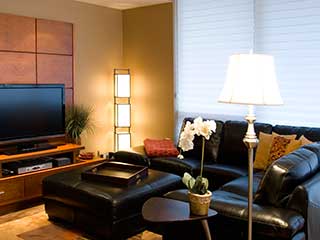 While this style of shades may be fairly straightforward, that doesn't make them any less fantastic! Their bold, solid shapes and lines can be a perfect complement to any space, especially if it's already got a lot going on.
Clean Them With Ease
Some styles of blinds or shades can be a hassle to get clean, as dust will accumulate on the various working parts and vanes over time. This isn't the case with roller shades! Their simple design makes them attract little debris to begin with, as well as makes it no problem to clear out what does cling to them. It also makes maintenance much easier.
Customizable To Your Needs
No matter what style the various rooms of your home feature, roller shades come in such a large variety you're sure to find the perfect match for each and every one. Thanks to being able to choose the right color, pattern, and texture for your needs, as well as using the free consultation and color samples we provide, it'll be a breeze matching each set to the requirements of the area. From the bedroom to the bathroom, these shades are totally adaptable! They also offer sheer and blackout options for even further control, allowing you to choose how much or little sunlight you want allowed inside.
Free Up Your Space
If you're looking to declutter and streamline things in your home, roller shades are a great choice! While opened they're thin and won't take up much room to begin with unlike other styles like drapery, and when closed they tuck up completely so you'd hardly notice they're there! Whether you have an apartment with limited space, or simply want an unobstructed view of the outdoors when your shades are open, that's what you'll get with our top-quality roller shades.
There's No Need To Wait
Protect your furniture, get rid of glare, and accent your rooms all in one with our lovely roller shades! You can discover more about them and the rest of our selection by contacting La Mesa Blinds & Shades today. No better time to upgrade your style than now!