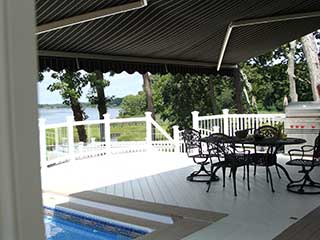 Enjoying the outdoors is all well and good, but sometimes the weather will remind you why we live under roofs. With a good set of patio shades, you can keep the sun and rain off your back while still enjoying your outdoor property. When the sky looks better, you can just roll them back again. If you decide on a motorized patio cover, adjusting it is no harder than the push of a button! Adding covers to your La Mesa patio area can improve it in terms of aesthetics and utility at the same time. Patio covers provide shelter and shade, thus letting you enjoy outdoor spaces in comfort. They also add color and aesthetic touches to the surroundings. From pop up canopy tents to motorized awnings, our custom made patio covers can suit any need and taste.
Motorized Patio Shades Or Manual?
The bigger the space that needs covering, the more likely you are to want motorized patio shades. Larger outdoor covers are heavier and clumsier, and in the case of sail shades and similar designs, they require much more coordination. Motorized awnings and patio covers are user-friendly and convenient, but depending on the style they can also be high maintenance. Talk to the experts about the logistics of an outdoor electrical device on your property, and decide if the pros and cons balance positive. Some types of patio covers are easier to automate than others, so consider the area that needs covering. Many prefer to go with motorized patio covers and awnings to facilitate faster and simpler control. You can adjust the position and amount of shade in the patio with the push of a button.
Awnings And Outdoor Shades
When most people think of patio shades, they imagine something along the lines of a retractable awning. These are great for smaller patios, storefronts, and balconies that have the building right there to support them. Motorized awnings are especially useful for commercial properties, where you might need to adjust the shading throughout the day without taking you away from your work. These shades most often extend from rollers laying against the wall overhead and have stationary frames or retractable arms. Shade sails provide an excellent way to add coverage over open spaces like pools and yards. You can have the patio shade sails tied to pergola corners or posts, stretching over a designated area to create cool, shaded spots.
Pop Up Canopies For Patios
These outdoor covers blur the line between shades and tents. A pop-up canopy includes a flexible canvass or fabric sheet and a set of detachable frames. When assembled, this canopy tent covers your porch, patio, or other outdoor space from above and one or two sides depending on the model. The advantage of this style is its movability and spectacle. The drawback? Most pop-up canopies require hand adjustment, so if you're looking for motorized patio shades you may want something else.
Sail Shades And Roll-Ups
These patio covers have a simple, almost primitive, aesthetic, but are actually sophisticated pieces of technology. Sail shades stretch out across a set of stands, hooks, or other supports in addition to the side of the building. Motorized sail shades usually have the fabric extending along with these frames or cables with a set of mechanical rollers. Manual sail shades require more effort than most to adjust, but if you have a wide or irregularly shaped space to cover they're the best.
Freestanding Patio Shades
If you don't have any supports for a detached porch or garden island and want shades over it, these are your solution. Freestanding patio shades have their own stationary supports, and either extend or rotate to cover the nearby area. These heavy-duty patio covers are most often manual, but motorized patio shades of this style are easy to arrange! You can have the motorized freestanding patio covers roll out whenever you see the sun inching towards you. This way, you can lounge outdoors and with the push of a button add shade to a sunny spot.
La Mesa Patio Shades Made To Order
Whether you're looking for some light outdoor shades or a heavy-duty motorized patio cover, we can help. With a free consultation from our La Mesa outdoor patio shade experts, you can easily find the best coverage solutions for these spaces. From patios and decks to even open gardens and yards. Patio covers come in numerous shapes and sizes, with all sorts of structures that make them ideal for different uses. Call us for free estimates and consultation, quick custom design, and high-quality products at affordable prices.