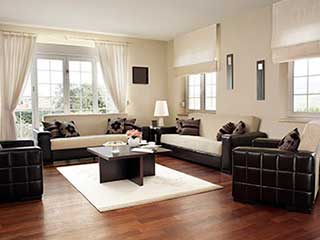 If you have a sophisticated dining room, bedroom, or overall look to your home, Roman shades are the perfect complement to them! Their unique, elegant style is unmatched, while also helping to protect your furniture, reduce glare, and more. You'll only wish you'd checked them out sooner!
Pick The Perfect Fabric Easily
Finding that perfect shade of purple, or the right texture of fabric, can make all the difference when it comes to how well your new shades will match the area! That's where our team comes in. With free consultation and color sampling, it'll be a breeze to decide on what color, pattern, and texture will best accentuate the style already present in any room. It ensures you'll love what you get, rather than making it a guessing game!
Perfect For Sitting Rooms And More
Roman shades are the ultimate choice to beautifully complement a room that's looking to achieve a refined, tasteful look thanks to their charm. From the dining room, to the guest bedrooms, this style of shade offers a special aesthetic due to creating big, lovely folds when it closes up, rather than rolling up tightly. This creates a softer presence, rather than the sharper lines than most other window coverings, and is an excellent choice if grandeur is desired.
An Ageless Style
While unfortunately some types of blinds or shades will fall out of style when the next trend comes in, you won't have to concern yourself with this when it comes to Roman shades! This type has been around for centuries with good reason, and brings a classic look that won't be going anywhere soon. Rather than have to be worried your new window coverings will look out of date or tacky when the next season comes around, stick with something timeless.
Contact Our Team Now
There's no reason to put off getting the lovely shades that you deserve any longer! Not when our professionals will help you take care of it swiftly and easily. Just call La Mesa Blinds & Shades today and get an appointment scheduled!