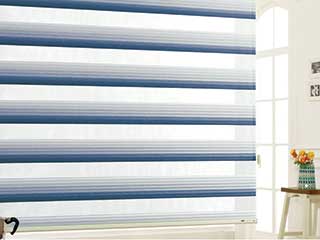 The unique beauty of layered shades is only one of the reasons why this type of window covering became so popular. In addition to their high tech look, layered shades also offer a very unique way to filter sunlight and protect your interior from UV rays. Combine this with their elegant look and the ability to switch from blackout to light filtering conditions without compromising a lot of privacy, and it's no wonder why these coverings are so often preferred for anything from kitchens to office spaces.
How Do Layered Shades Work?
As their name implies, layered shades consist of more than one fabric layer. The two layers are installed on a loop which rotates over and over according to your needs. Each layer consists of sheer and opaque slats, and the result is the striped appearance, similar to the patterns of a zebra. When the opaque slats cover the sheer ones, the shades provide maximum privacy and darken the room. When the sheer slats overlay each other, they let diffused sunlight in, protecting you from UV rays while also brightening the room with natural light.
Beauty and Versatility
The contrasting-color vanes of layered shades help them create a very unique look with a clean and high tech vibe. The minimalistic design still offers customization options, with a wide selection of colors and textures. You can choose deep and rich hues or neutral ones that blend into the surrounding décor.
Easy Adjustability and Flexibility
One of the best things about layered shades is their ability to suit different needs. From cloudy weather to blazing hot days, these window coverings can be adjusted to let in more light or reduce glare and create a cooler indoor ambiance. The right colors and materials can help you have a versatile range of options, but no one is expecting you to just know what to choose.
Schedule a Free Consultation Today
La Mesa Blinds & Shades will happily help you customize your new layered shades (or any other type of custom made window treatment you opt for) by sitting down with you at your home or office. These modern and clean-looking shades make for an excellent addition to virtually any room. Contact us today to learn more.