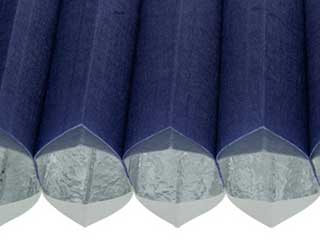 Cellular shades are famous for their ability to improve the energy efficiency of the room they're installed in. Different types of window coverings offer different types of extra benefits. Of course, first and foremost, they need to provide UV protection and privacy, as that is the main purpose of blinds and shades in the first place. Once you establish that this aspect of a specific covering option suits your needs, you can start thinking about all the added benefits it provides.
So What About The Insulation?
Windows serve as openings to the outside world, which is great when you want to admire the view, and not so great when you're trying to create a pleasant indoor environment. Heat can escape through the windows in the winter, or invade your home during the hot summer season. With cellular shades, you'll be able to reduce this phenomenon, also known as 'heat transfer', which will help you have an easier time maintaining a desired indoor temperature. The cellular structure of these pleated coverings forms a buffer between the interior of the room and the outside world, trapping hot air and preventing it from passing through. This is what makes cellular shades such a thermally effective window treatment option.
Light Filtering and Room Darkening
The material used to create the cellular shades will determine their light diffusing efficiency. Opaque and thick fabrics will better block sunlight and provide enhanced privacy, while sheer material will let more light in, while also providing UV protection and a moderate amount of privacy. The option will depend on your specific needs and the ambiance you're looking to create.
Special Motorization Options
The best way to save money isn't just to have your windows covered all the time, but to have the shades open and close according to outside weather. With the introduction of motor and control models, you'll be able to do just that. In fact, latest innovations allow you to not even have to physically do anything. Many property owners have already adopted the 'set-it-and-forget-it' trend of automation technology afforded by smart home systems. You have the option to set a schedule for your motorized cellular shades which they'll follow dutifully each day. Alternatively, you can have them utilize temperature and brightness sensors to act like self-adjusting shades. Of course, there are other forms of control, such as remote handsets and smartphone compatibility. And let's not forget about voice commands. The list goes on and on.
Energy Efficient Custom Made Shades
In order for your cellular coverings to work optimally, they need to match the precise dimensions of your windows. If any gaps are left, the insulation they provide won't be as effective as it can be. Schedule a free consultation with La Mesa Blinds & Shades to have an expert come over and walk you through all the customization options available to you.