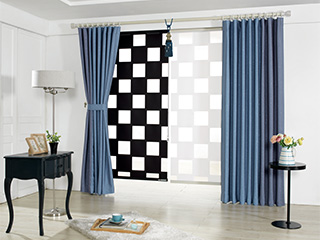 With sheer shades, you don't have to settle for light filtering over privacy or vice versa. You can have both options. All you need to do is adjust the slats or lower or raise the shades until you're satisfied with the results. These transparent coverings are great for letting light in while also reducing glare and protecting you from harsh UV rays.
How Sheer Shades Work
While many types of shades can utilize sheer fabric for similar purposes, there's a specific design-build of window coverings that holds the titular crown of sheer shades. These combine adjustable fabric vanes with large scale panels, allowing for a great deal of versatility. You can adjust the vanes as you see fit to let more or less light, or you can close them completely and lower the panels to have the shades darken the room and maintain your privacy.
Perfect For Glass Patio Doors
When thinking about blinds and shades, most people probably only focus on their windows. And for good reason, seeing as the terms window treatments/coverings are the prevalent synonyms. But some types of shades can also be fitted over glass doors, especially the kind that usually leads to patios. Sheer shades can be custom made to have vertical slats to make them just as useful and effective on tall windows and glass door panels.
The Choice Is So Clear It's See-through
Lame puns aside, you really should consider going with sheer shades if you're interested in maximizing light control without having to sacrifice a lot of privacy and UV protection. Get in touch with La Mesa Blinds & Shades and, via a free consultation, learn all you need to know about sheer window coverings to help you decide whether they're right for your needs or not. With custom made products and a professional installation team, your new shades will fit perfectly and work flawlessly.