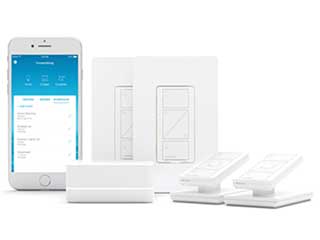 With the long list of styles and materials that Lutron shades come in, you can match your custom set to any decoration scheme. That said, motorized shades are a lot more than just an aesthetic feature. With smart window coverings like Lutron's, you can improve your household energy efficiency, prevent sun bleaching, and ensure your privacy without any daily hassle! The days when motorized shades were limited to wall switches and motorized handsets are gone. You can now supplement these traditional interfaces with Wi-Fi controls, Bluetooth, or smartphone apps. With some sensors and computerized smart controls, you can even have your window shades adjust themselves as needed without prompting! As a local La Mesa provider and customizer for Lutron products, we provide free consultation and estimates, and affordable service packages that include delivery and installation.
What Motorized Shades Give You
Convenience is the most obvious benefit to having motorized shades or blinds rather than cord-drawn ones. It definitely isn't the only one, though, or even necessarily the most important. Cordless shades are completely safe for small children to be around. None of the choking or strangulation risks that used to plague families with these Lutron products! Another benefit of motorized shades is actually lower energy consumption. Forgetting or not being around to adjust your window coverings throughout the day causes a lot of unwanted indoor heating and cooling. Up to thirty percent of your AC bill can go away if you put a reliable smart system in charge of your windows! Automatic shades also prevent sun damage to indoor delicates and hide the room's contents from view when the streets are busy. No longer a mere luxury, motorized shades can now save you money over the old-fashioned kind!
Affordable Motorized Shading Solutions in La Mesa
Homes, businesses, and all sorts of other buildings can benefit from motorized shades and blinds. From simple roller shades for small side windows to big motorized awnings for glass doors and wall windows, we've got you covered! Or, at least, we've got your windows covered. Close enough! Our Lutron products also include skylight and roof window shades, blackout shades for bedrooms and studios, and more decorative options like pleated Roman shades. These all can include smart controls, internet connectivity, light or heat sensors, and whatever other special features you prefer. Book your free consultation from La Mesa Lutron motorized shade experts in the local area. As soon as we know what kind of motorized shades you want and you've got a quote, we can get to work making them materialize.