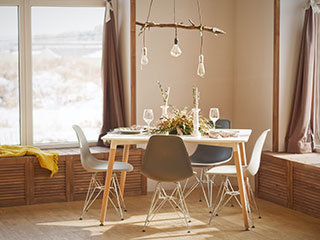 Creating complete darkness inside a room can prove beneficial in various ways. Bedroom windows with blackout curtains can create the ideal sleeping conditions. Sleep being so important to our health, you'll want room darkening window draperies that provide ample darkness for when you go to sleep. For privacy, blackout window curtains also provide an effective solution. By utilizing thick fabrics, the curtains will block any visibility from the outside. With even a few rays, you might get woken up far too early. Blackout curtains offer the best solution to this problem, and at affordable costs too. You can get a bargain on custom made blackout curtains for La Mesa windows (and nearby areas too). And we're happy to help you get started with a free estimate.
Best Bedroom Curtain Choice
You can get all sorts of coverings for bedroom windows. But for optimal benefits and simple operation, go with blackout curtains. For sleep, you need to completely eliminate the presence of sunlight in your La Mesa bedroom. Blackout curtains on the windows block all light from entering, whether from a natural source or streetlights. This allows you to fall asleep faster, and to sleep more soundly. Even the tiny hint of light in your bedroom can cause you to stir awake. Improper sleep will leave you groggy and tired throughout the day. And that's without even mentioning the accumulated negative effects on your health. With blackout window curtains, you make your bedroom ideal for sleep at all hours, even in the middle of the day. Bedroom window curtains need to provide total darkness for when you try to get to sleep.
Motorized Curtains and Drapes
For optimal convenience when it comes to window coverings, motorized blackout curtains provide one of the best choices. You can darken the room entirely or only partway, and you do that without having to even touch the curtains. Remote control draperies give you various options for positioning the coverings over the windows. With the smart Wi-Fi motorized curtain remotes, you can add high-tech covering solutions to any La Mesa property, residential or commercial. The aesthetic can vary as much as you like, and the innovative look of motorized curtains moving by themselves is truly remarkable. Not to mention, they make everything simpler. Just got into bed and forgot to draw the blackout curtains? Motorized draperies will let you simply push a button from the comfort of your bed to draw them closed.
Blackout Curtains For La Mesa Area Windows
The best way to get curtains is custom made. How come? Because you want the draperies to match the size of the window exactly. This way, no sunlight will peer through the sides or the bottom. The whole idea of getting blackout curtains is to have the option of covering the window entirely. If the curtains come out shorter than needed, you'll have to deal with annoying sunlight glare and compromised privacy. Want to get the best deal and lowest price on quality blackout curtains for La Mesa homes or for commercial business? Call us and schedule a free estimate on draperies of any type.