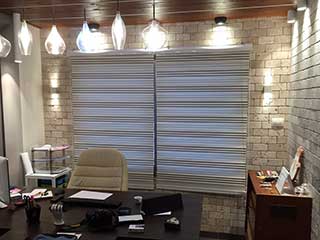 There's no better time or effort saving addition to a modern home or business that is more convenient and less intrusive than motorized shades. The amount of trouble and expenses they can spare you is hard to appreciate until you've lived with them - but once you have you won't want to remember life without them.
For Maximal Convenience
With remote controls, timers, and heat or photoreactive sensors, motorized shades can be adjusted from across the building, or without you even having to remember them at all. In a larger building with a number of windows in multiple rooms, this can save more time and energy than you may realize; it can even save you money.
A Long Term Investment
People forget to adjust their shades. Nobody's perfect, and especially in a large house or building, it's more likely than not that some will be neglected. When rooms get too much sun or not enough, you'll often find yourself adjusting the thermostat to regulate the temperature. Moreover, furniture or window coverings that get too much uninterrupted sunlight can be damaged. The one-time expense of installing motorized shades is likely to pay itself off quickly, with the lower power bills and longer-lived household accessories.
Child Safety
Window coverings are somewhat notorious among parents, as their drawcords are a choking and strangulation hazard for toddlers unless you remember to keep them tied up out of reach after every single use. Motorized shades have no need for strings or other child-unfriendly extensions; just a remote control like the one you use for your TV or air conditioner.
All Styles And Sizes
Almost any type of window shades can be installed in either hand-drawn or motorized form. Roller, pleated, honeycombed, and several other types available through our business have a motorized option, and our technicians' installation services are always available with a purchase. You can reap the benefits of modern technology without giving up whatever classic aesthetic you want your rooms to rock.
Call Us Today
If you need any additional help with your decision making, our professionals are happy to offer you a free consultation service. Get in touch with us today, and pick out your motorized shades for installation anywhere in La Mesa.